What Is a Wine Spritzer?
Anish Patel @ 2022-02-14 05:57:08 -0800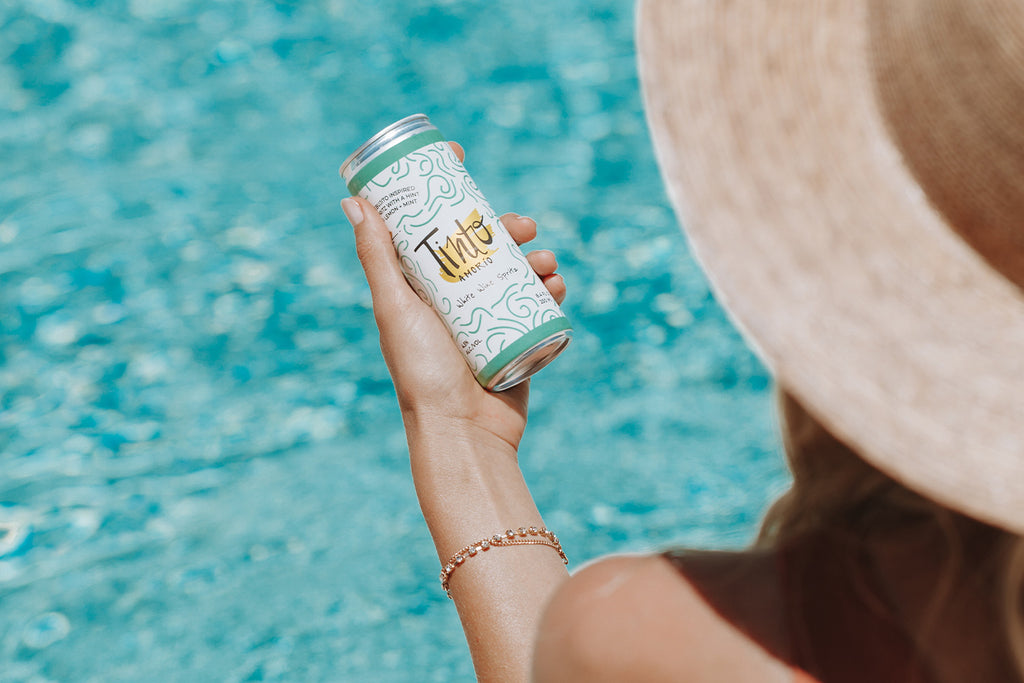 When it comes to the hottest parts of the summer, there is no cocktail better than a wine spritzer. It's the perfect no-frills drink that lasts the entire afternoon. What's better: the recipe cleverly cuts your wine with club soda, helping you stay hydrated and pace your drinking. This is essential on a hot day when you're already prone to dehydration. 
A wine spritzer is also the perfect way to elevate an inexpensive wine. It makes red wine work for the summer and cheap wine work anytime. There are many different ways to make this thirst-quenching cocktail. The recipe invites improvisation. 
Let's go over the ingredients and how you can make one on your next Sunday afternoon. 
What Is a Wine Spritzer?
A wine spritzer is a refreshing cocktail that combines table wine, club soda, ice, and a garnish. It's served in a wine glass and is made for easy drinking, quick planning, and hot days. Many bars will create their own wine spritzer recipes with an assortment of ingredients. But you can keep it simple too. 
Ingredient #1: Table Wine
Wine is made from fermented grapes. It typically yields a low-sugar drink with various flavor profiles and a unique mouthfeel. There's a vast spectrum of quality when it comes to wine. 
There are expensive wines from the best vineyards, meant to be aged and sipped and mulled over. Then, there are the more straightforward, everyday wines. They're not quite as complex, but they still deliver a great drink at an affordable price. These are called table wines. 
Because wine can be on the heavier side, with alcoholic percentages ranging from 8%-14.5%, it isn't always the best choice for a hot summer day. Enter the wine spritzer. 
Ingredient #2: Club Soda
Club soda is the perfect companion to wine because it's neutral, carbonated, and hydrating. A neutral soda is essential because wine can be quite complex with unique, sometimes odd, flavors. You have to be careful about what other flavors you add to it. If you're not sure how to compliment the flavors in the wine, you can't go wrong with club soda. 
Generally, most white wines will agree with a club soda with citrus, stonefruit, or tropical fruit notes. If you're using red wine, opt for either an unflavored soda or one with berry or apple notes. That said, don't be afraid to experiment. As you'll see, some of the best recipes are made by breaking the rules. 
Some alternatives to club soda that you can try are flavored seltzer, orangeade, lemonade, or limeade. You can even experiment with using tonic water which will add a herbaceous, piney note. 
Ingredient #3: Ice
Ah, ice. Add it to your cocktail to cool down the wine, enhance the fruity flavors of your drink, and stay cooled down. Larger cubes are better for a wine spritzer because they melt slowly. 
Ingredient #4: Fruit (And Other Garnishes)
The garnish is a fun part of any wine spritzer. You can play up the more subtle flavors of your wine, like rosemary or thyme. Or you can accentuate the predominant flavor in your drink by adding lemon or pineapple wedges. 
Other garnishes that taste great in a spritzer are berries, cherries, orange slices, lemon or lime wedges, lavender, basil, or watermelon. But the beauty of the wine spritzer is that it's a low-maintenance cocktail that delivers a lot. So feel free to raid your fridge and add whatever you find: cucumbers, peppers, melon slices, or even ginger. 
Are Wine Spritzers a Healthy Cocktail?
That depends. In general, a wine spritzer is relatively healthy. A glass of wine is about 130 calories, and dry wine contains an average of 1.2 grams of sugar. The club soda cuts those numbers in half as long as you're not adding soda that contains sugar or any fruit juice. 
That said, a wine spritzer does contain alcohol, which comes with certain health risks. But it certainly is a healthier option to a margarita, which contains about 11-12 grams of sugar, or a whiskey and Coke, which includes a whopping 23.8 grams of sugar. 
Keep in mind that many canned wine spritzers contain added sugar. However, there are tons of great options that use only natural ingredients and don't load them with sugar. You just have to make sure you read the ingredients before you buy. 
What Wine Should You Use for a Wine Spritzer?
Table wines are inexpensive and can be found at any store that sells wine. They won't typically run you more than $15. These wines are perfect because they have simpler flavor profiles, giving you more room to play with the other ingredients in the spritzer. 
White wine is traditionally used, but don't let that stop you from trying out a rosé or a red wine; these can make some fantastic summer sippers too. 
The best spritzer-friendly white wines are unoaked, light, and fruit-driven. Luckily, these aren't hard to come by. Here are some great options that you can easily find:

Pinot Grigio. Light, crisp, dry, generally neutral with notes of apple and lemon. This wine is impressionable, and there's room to add a flavored soda if you want.
Vinho Verde. Also light, dry, with green apple and lime.



Torrontes. Light, dry, fruity, and very floral.



Macon. Light, dry, with notes of fruit, pear, and peach.



Sauvignon Blanc. Dry with notes of grapefruit, passionfruit, and pineapple, as well as herbaceous notes like thyme and green bell pepper.



Riesling. For a sweeter note, you may taste apple, peach, or pineapple, but you'll definitely get a honey note from this wine. 
Rosé also makes an excellent base for a wine spritzer. Rosé will play up red fruit notes like strawberry, cherry, and raspberry. You may also find notes of peach, flowers, and bubblegum in a rosé. Any rosé will do no matter where it's from. 
Red wine is the trickiest to pair with a spritzer, but it can (and should!) be done. In fact, many classic Spanish cocktails are based on a combination of wine and some kind of sparkling water or soda. Here are some ideas for you:

Take a page out of Spain's book and use Tempranillo. Tempranillo can taste like cherries, cranberries, or plum and blackberries. Look for the words Tempranillo, Rioja, or Ribero del Duero on the label. 



Pinot Noir. Pinot Noir is light with strawberry, raspberry, and sometimes cinnamon and clove notes. 



Garnacha. Garnacha is light, dry, and tastes of strawberries, cherries, and white pepper. 
Beaujolais. Beaujolais also shows red fruit notes as well as bubblegum and candy.



Cotes du Rhone. Dry and medium-bodied, this wine will show berries, strawberries, and occasionally a touch of spice. 
When it comes to wine, a dry wine can handle soda with a little sweetness to it, or even a dash of fruit juice. You can also load these spritzers up with fruit. But if you start with sweet wine, try using a neutral club soda or tonic water and a savory garnish like a sprig of mint or lavender. 
7 Excellent Wine Spritzer Recipes You Can Make at Home
Here are some recipes you can use for inspiration or re-create easily at home. 
Tinto De Verano
If you can't go without your red wine all summer long, Tinto de Verano is the drink for you. This classic Spanish cocktail is enjoyed by locals all over Spain. Here's how to make it:
Add a bottle of Tempranillo to a pitcher.

Add ice and fill the pitcher to the top with a lemon soda of your choice.

Add a handful of orange slices and stir. 

Share with your friends. 
Passion Sauvignon
Add a bottle of Sauvignon Blanc to a pitcher. 

Add ice and fill the pitcher to the top with grapefruit-flavored seltzer.

Add a handful of pineapple wedges.

Garnish each drink with a slice of jalapeño.
Vinho Afternoon
Muddle a handful of mint in the bottom of a pitcher.

Add a bottle of Vinho Verde to a pitcher.

Add ice and fill the pitcher to the top with neutral club soda.

Add a handful of lime wedges.

Garnish each drink with a sprig of mint and a lime wedge.
Red Hot Summer
Add a bottle of Beaujolais to a pitcher.

Add ice and finish off the pitcher with club soda.

Add orange slices and peach wedges.
Rosé Garden
Add a bottle of

Rosé

to a pitcher.

Add ice and top the pitcher off with basil or thyme-flavored seltzer.

Add raspberries and sliced strawberries.

Garnish each drink with a sprig of thyme or basil.
Autumn Spritz
Add a bottle of Australian Pinot Noir to a pitcher.

Add ice and finish off with ginger-flavored club soda.

Add cinnamon sticks and slices of fresh ginger.

Garnish each glass with a cinnamon stick and an apple slice.
Sparkling Spritzer
In a wine glass, combine ice and 5 oz. of Prosecco
Top with 1 oz. of club soda.
Add a dash of St. Germain liqueur
Garnish with a sprig of lavender and a lemon wedge.
Don't Be Afraid To Riff on Wine Spritzer Recipes
Get creative with your recipes; these are just to get you started. You can add a dash of whatever liqueur you have on hand or a little gin to make it feel like a French 75. Just keep in mind that these options raise the alcoholic percentage in your glass. You can also add a splash of OJ, grapefruit juice, lemon, or even cranberry juice for extra flavor. 
The beautiful thing about the wine spritzer is that you should be able to raid your fridge and find everything, if not almost everything, that you need. Throw it together in a pitcher and call it a spritzer. Just don't forget to put out some cheese and crackers too. 

Want all the fun but none of the work? Try our canned Rebujito, made with all-natural ingredients and only 110 calories.