8 Tips for Hosting a Wine Tasting at Home
Bridget Reed @ 2022-04-18 09:11:46 -0700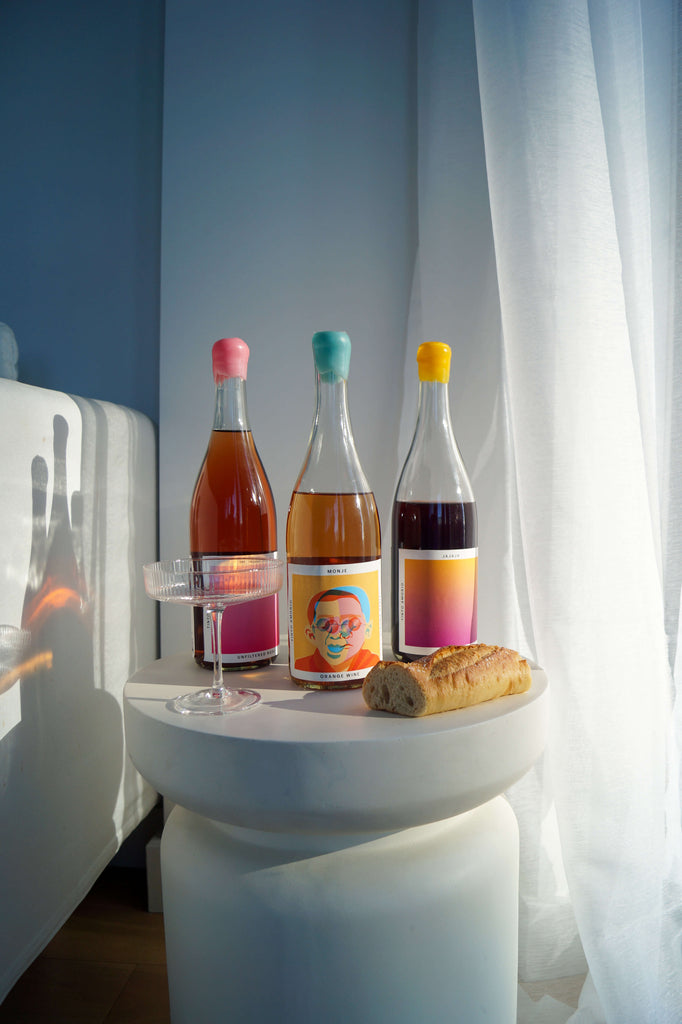 The best thing about wine tastings is that they offer an affordable way to taste a variety of wines that you may not otherwise be able to. They make a great ice breaker for a party, but they're also a crowd-pleasing main event. If you're thinking of hosting one in your home, there are a few things to consider.
Hosting a tasting at home is different from attending one at a restaurant or wine room. There are many questions: how much wine should you get? What kinds of wine should you select for a tasting? What do you need, other than wine, to create the perfect experience? 
We've got the answers to all these questions and more in this guide. Follow our eight tips, and you'll be sure to host a wine tasting to remember. 
8 Tips for a Perfect Wine Tasting at Home
#1: Choosing the Right Wine Selection
When it comes to wine, the possibilities are endless. 
There are over ten thousand grape varieties, which can leave you overwhelmed in the wine shop. While it's tempting to pull out 10 different wines to taste, resist the urge. Too much wine is overwhelming for even the most seasoned sommeliers, and the more you drink, the harder it is to detect subtle nuances. 
Instead, focus on three to five wines to ensure a memorable experience where your guests learn a thing or two. Any more than five, and you're pushing it. 
To easily narrow down your choices from over 10,000 to three, decide on a theme for your wine tasting and let that be your guiding light. 
#2: Choosing a Theme for Your Wine Tasting
Think about your guest list. Who is coming? What kind of wine do they like? What is their level of wine knowledge? If you know that your guests all love a specific style of wine, let that be your theme. 
Maybe everyone loves red blends, or you know that everyone drinks Sauvignon Blanc. Red blends from different regions or Sauvignon Blanc from around the world are two enjoyable themes for a tasting. 
Pick three to five of the most common grapes if everyone is a beginner. Another option is to highlight wines from a specific region like France, Italy, or a lesser-known region like South Africa. 
There are so many different ways to design a theme for a wine tasting that even this decision can be hard to settle on. Keep reading for tons of theme ideas based on the level of knowledge of your guests. 
#3: Know How Much Wine To Get
You don't want to run out of wine, so make sure you buy enough. 
The standard pour for a wine tasting is 2 ounces, and we recommend sticking with that standard. It will keep everyone from drinking too much, and it will be easier to smell the subtle aromas in each wine. 
A standard bottle of wine has 12 two-ounce pours in it. So if you're hosting six people total, get one or two bottles of wine for the tasting. Be sure to have a little extra for those who want to re-taste, and select a glass of their favorite after the tasting is over. 
#4: Don't Overdo It With Your Guest List
As the wine is poured, guests get more distracted (and louder). Hey, at least everyone's having fun, right? 
However, it can be hard to carry on a tasting if you've invited twenty people. Keep your guest list under ten people to allow for a smooth tasting and encourage meaningful conversations among the entire group. 
#5: Choosing the Right Wine Glasses
Believe it or not, the shape of your wine glass influences how well you can pick up the aromas. To ensure a successful tasting, make sure that everyone has the same wine glass. 
You may want to rent glasses for your event to avoid buying 30 or more. When you do this, opt for stemmed glasses. While a bit safer, stemless wine glasses are actually not ideal for tasting wine. This is because when you hold the wine by the bowl, your hand warms the wine up, altering the flavor profile. 
#6: What Tools Do You Need for a Wine Tasting?
In addition to glasses, make sure your guests have everything they need to learn about the wines they're tasting. 
Make spittoons available to promote responsible drinking. Give guests a sheet of white paper to hold their glasses over and observe the color of their wine. Plus, give them a pen and paper so they can take notes, too. 
#7: Setting the Mood for a Wine Tasting
Make sure that the space for your tasting is well-lit so that guests can easily see the color of their wine. Avoid burning candles or cooking on the day of the tasting, which can mask the wine's aromas. 
Lastly, make a wine tasting playlist. Music should be lively but not overwhelming. This creates an inviting atmosphere for guests and can inspire creativity as well! 
#8: Snacks for Your Wine Tasting
Snacks are essential to every wine tasting. Eating food changes the way you taste wine, and it's a great learning experience to snack and taste. 
However, you want to taste the wines first, as they are, before you introduce food. So, toward the end of the tasting, start passing out the snacks.
Charcuterie is perfect for wine tastings. The many different flavors on a charcuterie board will teach guests what kinds of food go with each wine. 
If you're tasting primarily red wine, choose hard cheeses. If you taste primarily whites, prioritize soft and spreadable cheeses. But don't forget the salumi, nuts, pickles, olives, grapes, bread, preserve, and mustard. 
Other snacks that are a hit at wine tastings are flatbreads, spinach and artichoke dip, pigs in a blanket, pretzels, and bruschetta. 
Choosing a Theme for Your Wine Tasting
If you're having trouble deciding on a theme for your tasting, we've got your back. Here are some specific line-ups that you can offer based on your guests' level of wine knowledge: beginner, knowledgeable, and a mixed bag. 
Wine Tasting Themes for Beginners
Beginners prefer introductory tastings. The perfect introduction to the world of wine is to offer a bottle of white wine, a rosé, a sparkling wine, and a red wine, in that order. Here are a few ideas:
Sauvignon Blanc, Provence, Champagne, and Pinot Noir

Chenin Blanc, Rioja Rosé, Prosecco, and Tempranillo 
However, you can also focus on just reds or just whites. Here are a few line-ups that provide an excellent variety: 
Reds:

Pinot Noir, Chianti Classico, Tempranillo, Bordeaux

White:

Pinot Grigio, Sauvignon Blanc, Chardonnay, Grüner Veltliner

Rosé:

Provence, Rioja Rosé, Rosato, California Rosé
Many beginners love red blends, but they don't know how to find old-world blends. Here's a line-up that features red blends from around the world:
Côtes du Rhône, Cape Blend, Super Tuscan, California Blend
Wine Tasting Themes for Knowledgeable Drinkers
If your guests have a little wine knowledge, get a little nerdy with your tasting. Plan a tasting that teaches around one element—for example, minerality. 
Minerality is a fascinating element in wine, and it's a fun wine note to learn to detect. Feature wines known for being chalky, dusty, stony, or salty. 
Albarino, Verdicchio, Provence Rosé, Priorat
Alternatively, explore the same wine from the same region that features a spectrum of quality. 
Bourgogne Blanc, Bourgogne Village, Bourgogne 1er Cru, Bourgogne Grand Cru

Chianti, Chianti Riserva, Chianti Riserva Classico, Brunello di Montalcino
Natural wine makes an enjoyable theme for intermediate wine drinkers. This line-up features different styles of natural wine.
Unfiltered still white wine, unfiltered still red wine, an

orange wine

, and a Pet-Nat
As another option, you can choose four orange wines from different regions like Italy, Slovenia, California, and Austria. 
Wine Tasting Themes for All Levels
If your crowd is more of a mixed bag, don't worry. Several line-ups will please the beginner and the expert alike. One wine theme that never gets old is focusing on one grape from different regions worldwide. There are endless ideas for this, but here are a few:
Pinot Noir from France, Oregon, New Zealand, and Germany

Chardonnay from France, California, Australia, and Italy

Syrah from Northern Rhone (France), Shiraz from Australia, and Syrah from California
Beginners and experts alike will also appreciate a sparkling wine tasting. There are many different styles of sparkling wine, and comparing them can help you detect the subtle differences. Try this:
Prosecco, Cremant, Champagne, and a Pet-Nat
Alternatively, you can choose one element of wine to study that is more foundational. Tannins are very interesting to both beginners and experts, so pick three wines that range from low to medium to high levels of tannins. Here are two ideas: 
Beaujolais, Côtes du Rhône, Tannat

Pinot Noir, Cabernet Franc, Barolo
Make Wine Tasting Easier
You don't have to make any decisions about wine if you don't want to. 
If all you want to do is set out some cheese and say, "go nuts," we've got the perfect plan. Invite as many people as you'd like and ask everyone to bring two bottles of the same wine. 
Clear some counter space, set out some index cards for easy labeling, and ask everyone to line their wine up as they arrive. 
Your guests can approach the counter at their leisure, read the cards, and taste whatever they'd like, in whatever order they want. Just make sure everyone knows to pour half-glasses so that there's enough for everyone to go around. 
This is an effortless way to turn a wine tasting into a casual gathering. It's about having fun, so if there's any tip you take from us, take this one: have a good time with it!
Want to find some interesting wines to have at your tasting? Check out our selection of natural, organic wines. You can find a range of unique wines that your guests have never tasted before!