Glou Glou Wine 101
Anish Patel @ 2022-06-02 11:05:46 -0700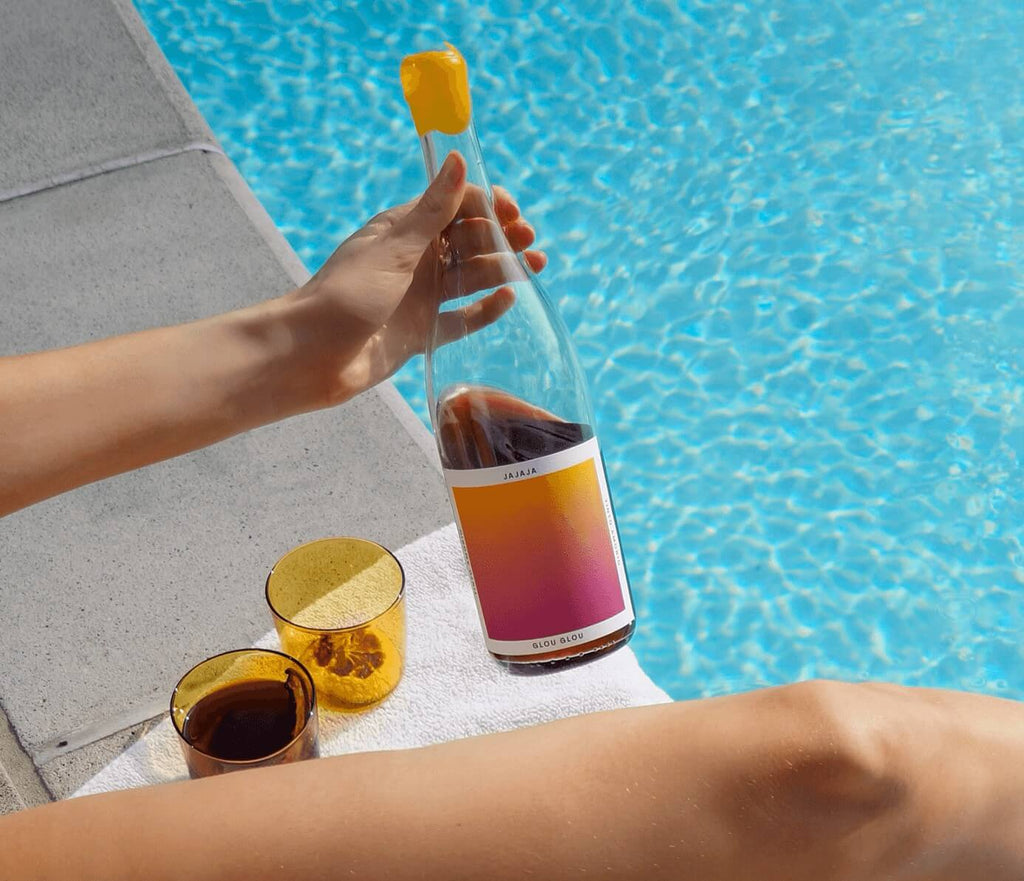 There's a new kind of wine taking the world by storm and it's called "glou-glou." Wine professionals are known for throwing around words that sound like gibberish to most people, and perhaps "glou-glou" takes the cake. The word was coined to describe a specific style of wine and even acts as a guide on how the wine should be enjoyed.
If you've seen this word on wine labels or heard people using it to describe their favorite wine, you're probably wondering what it means. As you'll see, we have the French to thank for this curious way of describing wine, but it's way more than just a descriptor. "Glou-glou" refers to a movement—an entire generation of winemakers and drinkers who want to explore enjoying wine in a new, more accessible way.
You might find that you've already enjoyed glou-glou wine without even knowing it. That's because glou-glou is all about ease, enjoyment, and relaxation. Let's take a look at what glou-glou is, who invented the term, and why you should be seeking it out.
What is glou-glou?
Glou-glou describes a wine that is playful, crushable, light, and easy drinking in the best way possible. It's wine made for afternoons—refreshing, low in alcohol, and approachable to any palate. These wines are crowd pleasers and as we'll see, challenge many of the norms of traditional wine.
Glou-glou wines often go hand-in-hand with natural wine, and you'll find that many glou-glou wines are unfined, unfiltered, organic, and/or made sustainably. They have a few things in common: high acidity, low alcohol, and fresh, fruity flavors. Most importantly, glou-glou wine is meant to be opened and poured, not stored away to age for years.
In other words, these aren't your Grand Cru Burgundy or your first-growth Bordeaux. They aren't made to be savored or intellectually picked apart. They're the embodiment of "here for a good time, not a long time." And as it turns out, there's a place for them in the wine world.
The word "glou-glou" mimics the sound of the wine leaving the bottle as its being generously poured and then again when its gulped down. The sound implies that the wine isn't meant to sit quietly in the bottle. Instead, it's meant for pouring. It takes the term "crushable wine" one step further.
We can thank the French for this term. They coined "glou-glou" to mimic the sound of drinking wine so refreshing and easy to drink that you just gulp the whole thing down. They're also champions of a category of wine that isn't meant to steal attention away from the meal. It can be enjoyed on its own, in a light, carefree way.
There are two regions that we can look to as the original innovators of this rebellious style of wine: Beaujolais and Provence, both in France.
The two regions that started it all.
There are two French wine regions that have been making glou-glou before it was even called that. The first is Beaujolais, a region just south of Burgundy, known for making light red wine from the Gamay grape. Gamay makes a wine that doesn't age well due to its low tannic structure and fresh, fruity flavor profile. However, it tastes delicious within the first few years of making it.
In the 1950s, Parisians became enamored with this style of drinking Beaujolais en primeur, aka, right away. The wine was called Beaujolais Nouveau, and its made by a specific process called carbonic maceration that many glou-glou winemakers have since adopted.
Carbonic maceration yields a very different style of wine, even with grapes that have the ability to age several years in the bottle. It involves gently and carefully placing grapes into the fermentation vat without splitting them. Normally, the grapes are split open and crushed, exposing the sugar for the yeast to feed on and convert to alcohol.
For carbonic maceration to take place, the grapes are placed in as whole bunches of intact grapes. Eventually, the weight from the grapes on top cause the grapes at the bottom to burst open, releasing CO2 and creating an environment that initiates fermentation to occur within each individual grape.
It yields all kinds of unique flavors like candy, raspberry, pear, and even banana.
Meanwhile, Provence, a southern French region known for making delicate rosé from a handful of grape varieties, had developed a style of rosé locals call vins de soif, aka, thirst-quenching wine. Sound familiar?
These wines are made with incredibly light extraction, yielding wines with a subtle pink hue, delicate aromas, and high acidity. They're meant to be enjoyed as an aperitif, rather than paired with dinner.
Glou-glou is the new crushable.
If you've ever had a fruity cocktail that made you go, "this is dangerous, I could crush this!" then you know what it's like to have a "crushable" alcoholic drink. Over time, easy-going wines have taken to being described as crushable, and "glou-glou" takes this descriptor to the next level.
A descriptor like "crushable" isn't usually applied to wine. Wine is traditionally thought of as a sophisticated, even intimidating drink. For many, the complexities of wine are hard to understand. We think of wine as something meant to age for several years and then be savored.
It's certainly not your hard seltzer destined for poolside hangs.
Most wine is actually meant to be consumed young.
It's a misconception that all wine needs to age. In fact, the majority of wine is meant to be consumed within the first few years before it begins to lose its character. Aging is reserved for rare, fine wines. Sauvignon Blanc is a great example of this. Sauvignon Blanc is the kind of grape that just simply doesn't age well. It's meant to be enjoyed within five years of making it. After that, it loses its signature passionfruit and bell pepper notes.
But does this mean that Sauvignon Blanc is an inferior grape? Not at all. Sauvignon Blanc is one of the most widely planted and enjoyed grapes, grown all over the world.
The new wave of glou-glou challenges the notion that wine has to be a serious thing. Instead, it suggests that wine, like many other alcoholic drinks, can be just about having fun. It doesn't have to be the main attraction, and it doesn't have to be an academic experience.
Glou-glou makes wine accessible, which makes it a win-win. It offers a different perspective on wine, which makes it accessible to everyone. And it means that more people feel like they can drink wine.
How to find glou-glou wine.
Glou-glou wines come from all over the world: France, Spain, Italy, the US, Australia, South America, and beyond. Wines can be red, white, rosé, orange, or sparkling.
If you're looking for sparkling wine, these ones are really easy to spot. The first indication of glou-glou bubbly is a crown cap rather than a cork. The crown cap typically means that the wine is unfined and unfiltered, and it will have lighter carbonation than Champagne. The other indicator of an unfiltered wine is a cloudy wine. Unfiltered wines still have sediment and dead yeast cells in them. These are perfectly safe to drink and can actually contribute a more dynamic flavor profile. These wines are called pétillant natural, and they're the perfect example of what "glou-glou" really means.
You'll find that many of them are natural, too, so look for the natural wine selection in the store. Pro-tip: you're unlikely to find this in major retailers. Head to small, locally owned wine shops to seek out these easy-going bottles.  
Glou-glou wine labels look a little different than the rest. They're more playful, colorful, and artistic than other labels. They might have little to no text on them. These labels are designed to make the bottles stand out on the shelves so that you can easily find them. This is another way of embracing the sentiment of, "wine doesn't have to be complicated."
If it's glou-glou, don't waste another moment.
You don't have to know anything about wine to enjoy a bottle of crushable wine. These wines are light, refreshing, and fruit-driven. They're meant to be out on the table, not hidden away in a cellar, so open them up soon after you buy them.
And last, these wines are delicious with a little chill on them, so pop them in the refrigerator for twenty minutes and get ready to enjoy the best afternoon wine you've ever had.
Are you ready to try glou-glou wine? Check out our red wine, Jajaja, an exotic glou-glou wine designed to evoke the warmth you feel laughing with your mates.