What Makes Tinto De Verano Such a Popular Spanish Cocktail?
Anish Patel @ 2021-12-16 13:26:43 -0800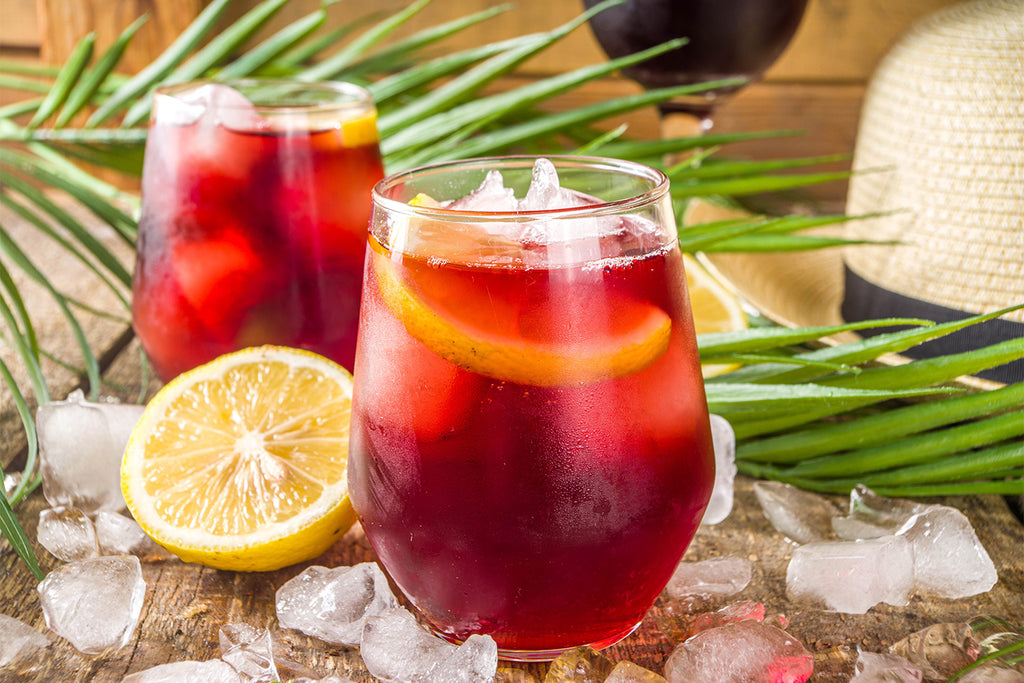 You've heard of Sangria, but have you heard of the local Spanish favorite Tinto de Verano? Tinto Verano means "the red wine of summer" and was created to put a refreshing twist on red wine during the hottest time of the year. After all, red wine isn't exactly a thirst-quencher on a hot day—but Tinto de Verano is. 
Tinto de Verano's reputation is simpler and lighter than Sangria, and many locals prefer Tinto. You'll find it in most bars and restaurants in Spain. 
Thanks to Federico Vargas, people have been drinking Tinto to cool off and relax since the early 1900s. Vargas owned a bar called Venta de Vargas in Córdoba, a city in southern Spain's Andalusia. For a while, his bar was called "Un Valgas," and it eventually earned the name Tinto de Verano as a nod to his artistry that turned red wine into a summer delicacy. 
Equal parts drink and ease. 
The original Tinto de Verano was made using equal parts red wine and gaseosa, a traditional Spanish soda. Today, Tinto uses la casera, which has become widely popular all over Europe. 
La casera is a clear, fizzy, and slightly sweet soda. Though it's sometimes compared to 7-Up and Sprite, it's not nearly as sweet. 
Over the years, the recipe for Tinto has remained the same, although now and then, you'll run into an interesting twist on this refreshing cocktail. "Con limon," or "with lemon," is one of the most popular versions of Tinto de Verano, using a lemon gaseosa in lieu of the traditional non-citrus gaseosa.
Tempranillo is traditionally used as the base wine.
Tinto de Verano typically uses Spain's star wine Tempranillo as its base. Tempranillo is extremely versatile and can range in flavor from red cherries and strawberries to dark plums and cedar. 
Tempranillo comes from Rioja, Ribera del Duero, Catalunya and is grown all over Spain. This wine tends to be medium-bodied with medium acidity and tannins, providing a smooth drinking experience that blends easily with the other ingredients in this cocktail. 
Conveniently, the wines that work best for this cocktail are usually the least expensive.
Locals love it more than Sangria. 
Tinto de Verano is loved all over Spain because it's easy to make, easy to drink, and refreshing without being overly boozy. The soda lowers the drink's alcohol level content so that you can keep sipping all day. It's often homemade or found bottled in grocery stores. 
What's the difference between Tinto de Verano and Sangria?
There are a lot of similarities between Tinto de Verano and Sangria. They're both wine-based cocktails and served in pitchers to be shared at gatherings in the summertime. Still, there are also some major differences. 
Fresh fruit plays a major role in Sangria, whereas Tinto de Verano uses fruit as a supporting actress. Sangria is made with muddled fruit, loaded with more fruit, and then chills with the fruit overnight so that the fruits' flavors infuse into the cocktail. Liquor is often added, raising the alcohol content and the weight of the drink. 
On the other hand, Tinto can be made easily on the spot. It doesn't need to sit overnight, and although sometimes a lemon wedge or an orange slice will garnish the glass, added fruit is not the main event. Most recipes don't add liquor, but some do.
Tinto is also lower in calories and often sugars than a Sangria while remaining flavor-forward with a light fizz.
Can I make Tinto without Tempranillo? You can make it work.
Even though Tinto is a "don't-fix-it-if-it-ain't-broke" kind of cocktail, there are still some twists on this classic drink. Even if you don't have the traditional ingredients, you can still make it work. 
For Tinto de Verano, a table wine intended to be consumed within the first few years is best. Choose a wine with a fruity flavor profile, nice acidity, and not too much complexity. Remember, simple and easy is the name of the game. 
Here are some wines you can use to make Tinto de Verano that you can easily find at the store. 
Garnacha 
Garnacha is another Spanish grape found in Rioja and Catalunya. Garnacha wine is perfect for Tinto de Verano because it has notes of raspberry and cherry, high acidity, and mellow tannins. This wine is known as Grenache in France and Australia, and it's even blended with Tempranillo in Spain. 
Côtes du Rhône
Côtes du Rhône is a medium-bodied red blend that holds a little more structure and can range in red and dark fruit flavors, much like Tempranillo. It's actually a blend of Grenache with a little bit of Syrah and Mourvedre added in for good measure. 
Pinot Noir
Grown, known, and loved worldwide, Pinot Noir is famous for its notes of red cherries and raspberries, high acidity, and low tannins. It can also develop notes of spice and clove, which can add depth to any cocktail.
Barbera
Barbera is an Italian red grape whose signature notes include red cherry, red plum, and black pepper. This wine can be light to medium-bodied and is a great way to balance Tinto de Verano's other ingredients. 
Beaujolais 
Another light red wine from France, Beaujolais is made from Gamay and is meant to be enjoyed as soon as it's ready, just like Tinto. This wine can express red fruit notes as well as pear, banana, and bubblegum. 
Variations on Tinto de Verano
If gaseosa isn't within reach, there are plenty of substitutes to add a little fizz. If you'd rather go without sugar, soda water, or even tonic water works great. If you like it sweet, go for 7UP or Sprite.
Some people like to add a dash of sweet vermouth to create a mellow tone of aromatics and raise the alcoholic content of your drink.
For a nice finishing touch, mixologists can use a lemon peel or an orange slice as a garnish. Remember, Tinto de Verano is intended to be uncomplicated, so don't add too many bells and whistles. 
If you love Tinto de Verano, you need to try these cocktails too.
Are you loving this wine and soda combination? Spain loves it too. Check out these other traditional Spanish cocktails as well. 
Sangria
Sangria takes Tinto de Verano's concept to the next level—the next alcohol level, that is. Mix muddled fruit, chopped fruit, sugar, brandy, and lemon soda overnight and serve in a pitcher. 
Kalimotxo
Also known as Calimocho, this cocktail is one part red wine and one part coca-cola. That's it. 
Agua de Valencia
This traditional cocktail from Valencia takes a base wine of Cava and adds fresh orange juice, gin, and vodka. Tread lightly!
Rebujito
A truly unique combination, Rebujito combines sherry and lemon-lime soda over ice with a sprig of fresh mint. Use Fino for a slightly nutty note and Manzanilla for a floral flavor profile.
Want to make drinking Tinto de Verano even easier? We've got your back. You can buy it in a can now. Made with low calories and natural ingredients.