14 Signature Spanish Cocktails You Need To Try
Anish Patel @ 2021-12-16 13:16:08 -0800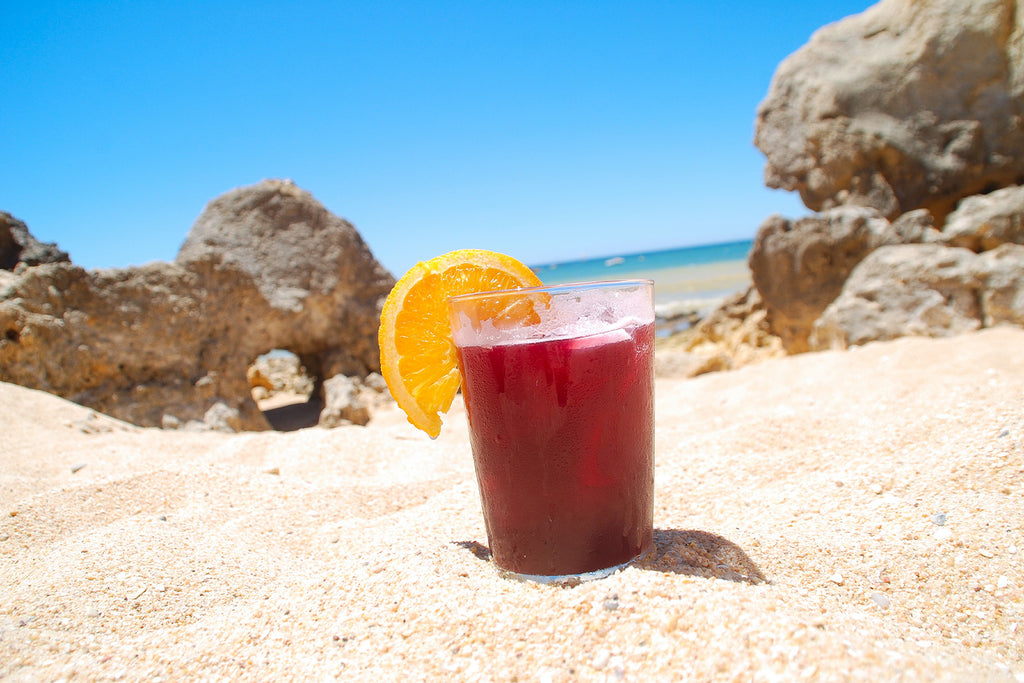 Spain wouldn't be Spain without its rich tradition of food and drinks. Though it's mostly known as the third-largest wine-producing country globally, Spain also has many traditional cocktails and signature spirits. Take Sangria, for instance, Spain's signature cocktail that's taken the world by storm. As you'll see, so many classic Spanish cocktails are filled with fresh fruit, made to be refreshing on a hot day and enjoyed with friends and family. 
If Spanish cuisine tells us anything, it's that Spain doesn't hold back when it comes to rich, flavorful ingredients and dishes bursting with color—and its drinks are no different. Fresh fruit plays a major role in these cocktails. Oranges, apples, peaches, lemons, and limes are muddled, squeezed, shaken, and put on display in big, sharable pitchers. 
We also have Spain to thank for many unique liquors and liqueurs. Just look at Oruja, a brandy made from grapes leftover in wine production, the coffee liqueur Café Licor d'Alcoy, and the herbaceous digestif Hierbas Ibicencas meant to settle the stomach after a meal. 
Spain raised the bar. 
Barcelona is home to one of Europe's oldest cocktail bars, Boadas. Locals were skeptical when Cuban-born Miguel Boadas first opened the bar in 1933. People were used to sitting at tables; no one had ever seen bar-seating before. But Boadas soon became a favorite spot of artists, writers, and other local creatives. 
That bar is still open today, and you can go have a classic cocktail and admire the photos of all the people that have frequented Boadas over the years.
14 Signature Spanish Cocktails
Let's take a look at 14 of the most popular Spanish cocktails that you have to try. We'll tell you what's in them, what they're like, and how they came to be a Spanish favorite.
Don't forget to share!
Tinto de Verano
First up is Tinto de Verano, a drink that translates to "red wine of summer." If you like drinking red wine year-round, this cocktail might be your new favorite. 
Tinto de Verano is a little more popular among locals than Sangria, which has a reputation as a tourist drink (albeit a delicious one). Tinto is believed to be an evolution of the drink Kalimotxo, another of Spain's most popular mixes. 
Tinto de Verano is simpler than Sangria and perfect for summer. It's made with red wine and Gaseosa con limon, a popular Spanish soda with lemon. Some Tinto recipes will add a splash of sweet vermouth and a lemon peel garnish—but the simpler the Tinto, the better. 
Tempranillo is typically Tinto's base wine as both Spain's star grape and a wine with good acidity and red fruit flavors. You can also craft a perfect Tinto using Garnacha, Monastrell, Pinot Noir, or Barbera. 
Agua De Valencia
Hailing from Valencia, Agua de Valencia has earned the name "water of Valencia," as it's so refreshing that the locals drink it like water. 
The story goes that in 1959 a worker at the Cafe Madrid in Valencia named Constante Gil heard that some visitors were bored with Cava—like you could get bored of Cava—so he added fresh orange juice, gin, and vodka.
Needless to say, Agua de Valencia cured their boredom. Some recipes today add sugar to cut the acidity a bit. The result is a light, refreshing, carbonated, and highly alcoholic drink that's served in a tall glass over ice and garnished with oranges from Valencia.
If you like a mimosa and you love a French 75, this is one cocktail you have to try. 
If you're wondering why our eyebrows raised at anyone being bored by Cava, it's because Cava is the sparkling wine of Spain. Made in the same traditional method as Champagne, Spain infuses this classic with its own special flair by using different grapes grown in a different climate and on different soil. 
While Cava is anything from boring, we can see why someone might reach for Agua de Valencia, especially on a hot day. 
Rebujito
Rebujar means "to mix" in Spanish, and this cocktail is a simple mix of Manzanilla or Fino sherry, lemon-lime soda, and muddled mint. Some people add lemonade, soda water, or tonic instead, but it's always served over ice and garnished with a fresh sprig of mint. 
Did we mention it's refreshing? Rebujito tastes like a citrus punch with sweet and sour notes. You'll get a slightly nutty note if you use Fino, while Manzanilla delivers a floral punch.
People are divided over Rebujito's origin story. Some think it was influenced by the Sherry Cobbler, a US-based cocktail that combines sherry, sugar, and citrus. Others argue that the cocktail comes from Andalusia, where sherry originates. 
Sangría
Although more popular among Spanish tourists than locals, Sangria has spread to the ends of the world. With wine, citrus, ice, and plenty to go around, what's not to love? 
Sangria probably dates back to the Romans who put a touch of alcohol in their drink to kill bacteria, rendering it safe to drink. It's more of a formula than a recipe, kind of like the Buddha bowl of cocktails. 
A classic Sangria has a few things in common: tempranillo, chopped lemon, oranges, apples, or peaches, and sugar served in a pitcher with ice. 
Use any kind of fruit, any kind of red wine, and any flavored liqueur, brandy, sparkling water, or lemon-lime soda your heart desires. 
Sangría Blanca
Originally called Zurra, Sangria Blanca is made with white or even sparkling wine, and it typically incorporates peaches. Enthusiasts typically make this drink with Cava, Rioja Blanco, Pinot Grigio, Sauvignon Blanc, or Albariño, but any white table wine will do. 
Kalimotxo
Kalimotxo, aka Calimocho, originated in the 1920s in Spain's Basque region. The recipe is equal parts red wine and coca-cola. Known as the "poor person's drink," peasants originally used the soda to mask the flaws of cheaper wines. Hey, there's no shame in a good time that doesn't break the bank.
This cocktail is an easy drinker that's served over ice. 
Agua de Sevilla
Hailing from Seville, this cocktail translates to "water of Seville" and tastes light, bubbly, and refreshing. It is made with Cava, pineapple juice, triple sec, whisky, sugar, and citrus. Like Sangria, it's served in large pitchers. 
Sol y Sombra
Sol y Sombra is a classic digestif from Madrid meant to aid digestion after a meal. The recipe is equal parts brandy and anisette, and it's served in a brandy snifter.
Anisette is a liqueur flavored with anise, so in addition to the brandy's booziness, you'll also find anise's signature licorice notes. 
Sol y Sombra means "sun and shade" and refers to your choice of seats at a bullfight. "Sol" is a seat in the sun, but it's cheaper. "Sombra" is a seat in the shade, but it's going to cost you. This name also refers to the contrasting color of the two liqueurs, brandy being darker and anisette being lighter. 
Clara de Limón
Clara de Limón, also known simply as Clara beer or a "shandy," is a simple drink perfect for a hot summer day. Just mix one part Spanish beer and one part lemon soda. 
It's light with a touch of citrus and acidity, and the soda offsets the alcohol, so you don't get worn out too quickly. 
Asiático
Originating in Cartagena, this cocktail was made as a warming morning drink. It's made with brandy, condensed milk, cinnamon, and freshly brewed coffee. It tastes creamy and rich, and it will certainly put a pep in your step to start the day—if you dare. 
Leche de Pantera
Leche de Pantera means "panther's milk." Although it hasn't seen much popularity of late, it made a small revival in the 1970s. While it hasn't reached international acclaim, locals certainly love it. 
This recipe blends gin, condensed milk, and ice to make a sweet, creamy, boozy, and very refreshing drink. 
Oruja Over Ice
Another traditional digestif, enjoy Oruja after dinner over ice to aid digestion and settle the stomach. Oruja is a Spanish liqueur made from residual grapes, skin, seeds, and stems from wine production. The grape material is pressed and fermented, then distilled.
The result is a slightly sour and sweet, grape-flavored liqueur with herbal notes. Just add an ice cube, and you're done. 
Crema de Orujo
Crema de Orujo also blends this traditional liqueur with coffee extract, caramel, cocoa, and milk. If you like coffee-flavored cocktails, this is one you have to try. 
Don't forget to share.
As you can see, Spain's traditional cocktails are playful, fruity, boozy, and made to drink with friends. As for the lesson? You don't need a complicated bar as long as you have fresh ingredients and good company. 
If you love the idea of a wine spritzer, try our very own Tinto de Verano, a lightly sparkling red wine cocktail with lemon.