8 Famous Cocktails in Movies and Their Recipes
Anish Patel @ 2022-01-13 06:34:44 -0800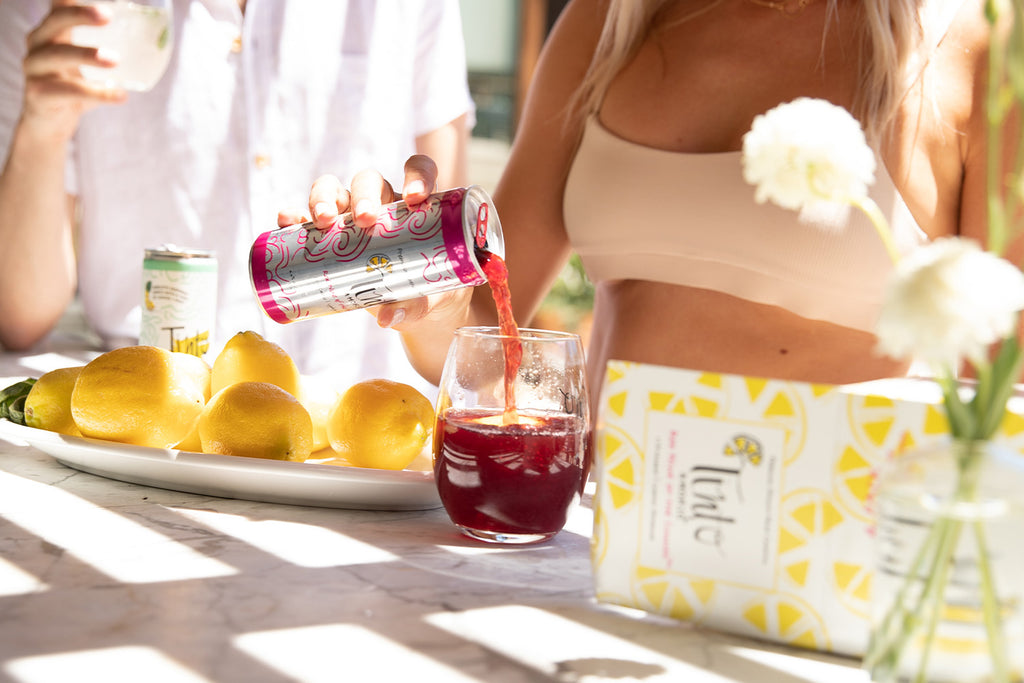 How does a cocktail reach icon status? As the saying goes, sometimes you just have to know the right people–or in the case of cocktails, the right people have to know about you. 
Many of the cocktails on this list found international fame after being featured on the big screen and became forever associated with the legacy of the stars that casually (or feverishly) sipped them.
Here are the most famous cocktails that made it into movies or television. We suggest whipping them up for movie night—so we're also giving you the recipes and our suggestions for the perfect movie snack pairings. 

White Russian: The Big Lebowski

The Big Lebowski initially received mixed reviews, but its cult following has helped it reach classic status. Its story follows The Dude, a bathrobe-wearing bowler who gets roped into a complicated world of crime and kidnapping after a moment of mistaken identity. He sips a total of 9 White Russians as he navigates his predicament. 
If you love the movie, you've tried a White Russian. Interestingly, not many people know that this drink didn't originate in Russia. It was invented in 1949 by a Belgian bartender, Gustave Tops.
Here's the recipe:
2 oz chilled vodka
1 oz Kahlua
1 oz heavy cream
Combine ingredients in a rocks glass over ice and stir. Garnish yourself with a bathrobe. 
For movie night, chocolate chip cookies, kettle corn, milk duds, or chocolate-covered pretzels will really tie the room together. 

French 75: Casablanca

Casablanca takes place in a gin joint in French-controlled North Africa during WWII, where German officials and European refugees make up the clientele. This film was actually made during WWII, and many of the actors and extras in the movie were displaced due to the war themselves.
While there's no doubt that booze plays a starring role in this film, only one cocktail is explicitly named: the French 75. The French 75 was named after the French 75-millimeter gun used during WWI. 
Here's how you can make it:
1 oz gin
½ oz fresh lemon juice
½ oz simple syrup
Shake ingredients in a shaker with ice and strain them into a champagne flute. Top with 3 oz of Champagne and garnish with a lemon twist. 
For movie night, pair your French 75 with mozzarella sticks, classic popcorn, and spinach-artichoke dip. 

Vesper Martini: Casino Royale

Everyone knows James Bond likes a vodka martini—shaken, not stirred. But in Casino Royale, Bond breaks down how to make the Vesper: "Three measures of Gordon's, one of vodka, half a measure of Kina Lillet. Shake it very well until it's ice-cold, then add a large thin slice of lemon peel. Got it?"
Bond author Ian Fleming actually invented this recipe. It first appears in the 1953 book Casino Royale, named after double agent Vesper Lynd. While the classic recipe very clearly calls for the drink to be shaken vigorously, this actually violates a foundational bartending principle. 
Proper mixology follows that if a drink is made entirely of booze like this Bond classic, it should be stirred, not shaken. Shaking the drink dilutes it, so shaking is reserved for cocktails with juice or other mixers.
However you choose to mix it, here's the recipe:
3 oz gin
1 oz vodka
½ oz Lillet Blanc 
Combine in a shaker with ice, stir, and strain into a martini glass. Garnish with a lemon twist. 
For movie night, make sure you have charcuterie, fried pickles, and deviled eggs to pair with this boozy martini. 

Manhattan: Some Like It Hot

Some Like It Hot is a comedy where two men go on the lam via train after witnessing a mafia murder. To keep a low profile, they disguise themselves as women and join a female band. On the way, they fall for the band's singer and attempt to compete for her affection without blowing their cover. 
Fun fact: this movie is credited with bringing the Hays Code to an end, a set of traditional standards aimed at improving the moral reputation of the film industry by prohibiting same-sex and interracial relationships, among other things. Some Like It Hot broke many rules but received critical acclaim anyway, which undermined the reputation of the code.
Marilyn Monroe plays the band's singer, Sugar, who famously shakes up Manhattans in a hot water bottle and serves them in dixie cups with saltine crackers on the train. 
While we recommend serving yours in a martini or a rocks glass, you could certainly serve them Sugar's way for fun. In this case, we also recommend pairing them with a wig.
Here's the recipe:
2 oz bourbon
1 oz sweet vermouth
2 dashes of Angostura bitters
Combine ingredients in a shaker with ice and strain into a martini glass. Garnish with a maraschino cherry. 
For movie night, pair your cocktail with BBQ wings, spicy potato chips, or Chinese takeout.

Red Eye: Cocktail

In Cocktail, Tom Cruise works as a bartender to put himself through business school. He has lofty dreams of becoming a wealthy marketing professional but ends up meeting a seasoned mixologist who takes him under his wing and shows him how to make real money behind the bar. 
In the movie, Tom's mentor adds tomato juice to a beer and cracks an egg in it to create the Red Eye—a famous hangover cure. We personally don't recommend drinking several raw eggs during movie night, so you may want to leave that ingredient out. 
The Red Eye is inspired by the classic Michelada, which adds lime juice, tomato juice, and Worcestershire sauce to a Mexican Lager. 
Here's the official recipe:
6 oz tomato juice
12 oz light lager
1 egg
Pour your beer into a glass and top it with tomato juice. Crack the egg into your glass and let it fall to the bottom. Don't stir. 
For movie night, the Red Eye will go great with chicken wings, bacon-wrapped jalapenos, and nachos. 

Cosmopolitan: Sex and the City

Whether you watch the show or the movie, you know these girls love their Cosmopolitans. Sex and the City is a romantic comedy that follows four New York women—Carrie, Charlotte, Miranda, and Samantha—as they navigate their friendship and romantic relationships. The movie ends with the four gal pals sipping cosmopolitans as they celebrate Samantha's 50th birthday. 
We couldn't help but wonder… where was the Cosmo created? The Cosmopolitan was actually invented in 1987 in Manhattan's Tribeca borough, making it a drink fit for a true New Yorker. 
Here's how you can make it:
1 ½ oz vodka
¾ oz Cointreau
¾ oz fresh lime juice
½ oz cranberry juice
And just like that, you can combine the ingredients into a shaker with ice and shake until chilled. Strain into a martini glass and garnish with a lime twist. 
Be sure to serve your Cosmos with cheese and crackers, spicy Chex mix, or pigs in a blanket. 

Orange Whip: The Blues Brothers

Orange Whip can thank The Blues Brothers for its fame, but it wasn't originally written into the script. A sales director for Orange Whip—which was just generic orange soda at the time—asked if the drink could be mentioned in the film.
Detective Burton Mercer famously says, "Who wants an orange whip? Orange whip? Orange whip? Three orange whips!" Fun fact: That line was entirely improvised. 
Here's the recipe:
4 oz fresh orange juice
1 oz rum
1 oz vodka
½ oz Triple Sec
1 oz heavy cream
Combine ingredients with crushed ice and shake vigorously. Pour some of the crushed ice mixture into a glass and then strain the rest. 
Pair this creamy, sweet cocktail with white chocolate-covered pretzels, Rice Krispies, and regular pretzels. 

Singapore Sling: Fear and Loathing in Las Vegas

This adventure comedy follows Johnny Depp's character, Dr. Gonzo, and his accomplice Raoul Duke as they go on a wild bender through Nevada. They get themselves into some very chaotic situations, which is not surprising considering the heavy drug use and the drinks that they consume throughout their adventure.
At the start of the movie, Gonzo recalls that their journey began with the two dining on the patio of a swanky hotel "for many hours, drinking Singapore Slings with mezcal on the side."
The Singapore Sling was indeed created in Singapore. In the 1900s, it was improper for women to drink. An innovative bartender created a drink to look like a non-alcoholic fruit punch so that women could drink without worrying about the social stigma. 
While we don't recommend you pair this boozy, refreshing drink with mezcal, here is how you can recreate it:
¾ oz gin
¼ oz Benedictine
¼ oz Cointreau
¼ oz cherry liquor
½ oz fresh lime juice
4 oz pineapple juice
1 dash of Angostura bitters
Combine ingredients into a shaker with ice and shake. Strain into a Collins glass and top with club soda. Garnish with a slice of orange or pineapple and a cherry. 
For movie night, pair your Singapore Sling with queso and chips, tacos, or pimento cheese dip. 

Don't want to do the work?

These classic cocktails are all a must-try at some point, especially if you're a movie buff. But if you're hosting a movie night and don't want to worry about preparations or clean up, opt for a canned wine cocktail. 
Our Tinto de Verano is a lightly sparkling red wine cocktail and is a crowd-pleaser. Easy cleanup, easy storage.