Gifting Wine Bottles
Anish Patel @ 2021-12-16 13:21:40 -0800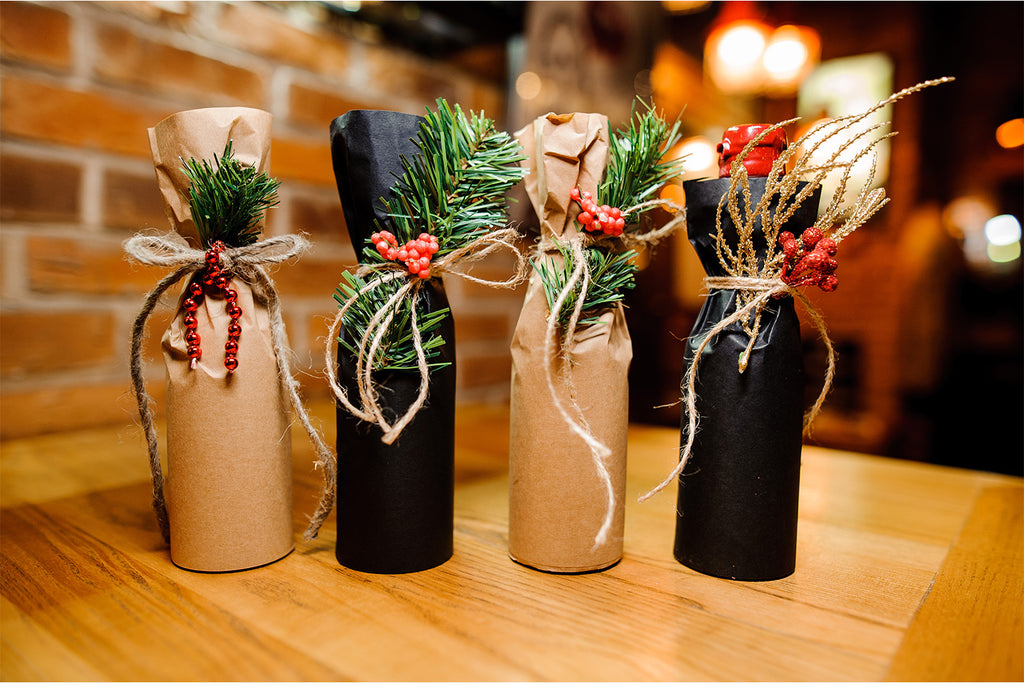 It's both easy and difficult to shop for the wine lovers in your life.
On the one hand, you know exactly what to get them. On the other hand, wine newbies and sommeliers alike can be picky. They like what they like, and sometimes it's hard to figure out exactly what that is. 
This holiday, we're giving you the gift of easy shopping. In this guide, you'll find wines that suit each type of wine drinker, a few wine-related gifts that aren't a bottle, and the best ways to wrap them. 
The Types of Wine Drinkers and What to Get Them
No matter what kind of wine drinker you're shopping for, there's plenty of new stuff to try. 
The Convenient Wine Drinker
The convenient wine drinker isn't interested in learning the ins and outs of wine. They know they like wine—what else is there to think about? 
These wine lovers don't like the more complicated stuff. Instead, they stick to old trusty wines that they can find at their nearest grocery store. (And they live their best life doing it, by the way.)
For this wine personality, try approachable, affordable bottles like Sancerre. Sancerre is a white wine from France made from Sauvignon Blanc. It's an excellent gift for a Sauvignon Blanc-loving friend that isn't just another bottle of the Blanc. 
You could also look for Chilean red wine. Chile is a wine region where you get the best of both worlds: affordability and exceptional flavor. After all, if you're going to get this friend hooked on a new wine, you want to make sure it's reasonably priced. 
Finally, you can always get the Convenient Wine Drinker a variety pack of canned wines. Canned wine is growing in popularity not only for its convenience but also because you can fit about two glasses in one can. What's not to love?
The Rosé All Day Drinker
Pink wine lovers just wanna have fun. They're the life of the party, and they need something in their glass that complements their easy-going personality. 
If you want to introduce your rosé-loving-loved-one to a whole new world, look for Prosecco Rosé. Prosecco is a sparkling wine region from Italy that recently started making its wine rosé-style. This wine is light, crisp, bubbly, and sometimes floral. 
You can also try Beaujolais, a light, fruity red wine from France made from Gamay. Beaujolais has earned its reputation as a wine meant to be enjoyed right away rather than overanalyzed. 
The Wine-With-Food Drinker
The Wine-With-Food Drinker prefers to immerse themselves in a full sensory experience. They want to savor their wine, appreciate its nuances, and above all, enjoy it with a meal made with quality ingredients and a lot of care. 
For foodies, stick to old-world wines. Old-world wines come from Europe, and they're made for food pairings. 
First up, try a Chianti Classico Riserva. Chianti is perfect for red sauce and meat lovers, and the words "classico" and "riserva" signify that the wine is a step above table wine. If your wine lover's got a pasta maker in their kitchen, they need a bottle of Chianti on their counter. 
You can also get them a bottle of Albariño, a white wine from Spain that's loved for its citrus tang and salinity. Grown not far from the Atlantic Ocean, these grapes are the perfect match for seafood. 
The Wine Hipster
The Wine Hipster uses their purchasing power to support local shops, small producers, and passionate winemakers. They have a special interest in sustainable natural wines—bonus points if it comes from a biodynamic vineyard. 
Check out your local shops for wines this personality will love. Look for Pét-Nat, short for pétillant-natural, a natural sparkling wine that is slightly fizzy compared to fiercely bubbling Champagne. You can easily spot Pét-Nat in the store. They tend to look cloudy because they're unfiltered, and they're sealed with a crown cap rather than a cork. 
For a more traditional option, look for Chinon. Chinon is a French wine made from Cabernet Franc, a classic grape that tends to be a hit with the hip wine crowd. This region is also famous for its biodynamic and organic farming practices. 
The Wine Novice
The Wine Novice really wants to like wine but hasn't quite figured it out. They've tried some wine and thought it was too sour, bitter, or dry. But still, they persevere. They need a simple wine with fruity aromas and low tannins. 
Gift your Wine Novice a bottle of Semillon, a light, dry wine found in Australia. They may also love Riesling, which has a sweet, fruity note that makes this wine more palatable for newbies. 
For a red option, go for a Pinot Noir from California. This wine is known for its juicy, fruity aromas, and it's a favorite of novices and well-studied wine drinkers alike. 
The Wine Nerd
The Wine Nerd is currently obsessed with wine. They want to taste and smell it all, and they're more focused on identifying the aromas in their glass than casual sipping. For them, wine is a great mystery to solve. 
Give the Wine Nerd wines from classic regions that they can't normally afford or wines from lesser-known regions that will pique their interest. 
Mercury is a great option. Every wine student has to taste a good Burgundy, but this region can get really pricey. Mercury is a lesser-known subregion of Burgundy that makes great Pinot Noir, but it's affordable enough for a holiday gift. 
You can also look for Grüner Veltliner from Wachau, Austria. Grüner is a light white wine with notes of citrus and white pepper, but the nicest bottlings are aged for a decade or two. Wine nerds are always looking for new corners of the world making great wine, and Wachau is one of them. 
The Wine Snob
The Wine Snob has tasted it all, has an opinion about it all, and probably has a talking point for whatever you buy them. Find something weird or obscure for them to try out. 
For the Wine Snob, stick to the smallest sections of your local shops. If you find a rare region with only three bottles to its name, you've probably struck gold.
Plavac Mali is a fun wine that you'll probably be able to find nearby. This red wine from Croatia is bursting with black fruit and earthy aromas. 
Another surprise for a Wine Snob is Vin Jaune. A little harder to find, Vin Jaune is an oxidative wine from a small region in France called Jura that has developed a cult following among wine enthusiasts. It tastes similar to sherry and isn't for the faint-of-palate. 
You can also give the gift of a nice dessert win or skin contact, which is also known as orange wine. 
What Are the Best Wine Gifts That Aren't Wine?
Want a gift that will last longer than a night or two? There are tons of gifts for wine lovers that aren't a new bottle.
For Wine Newbies, get a wine chiller, champagne stoppers, or a vacuum pump to keep their wine fresher longer. Wine Nerds will love a wine book, a decanter, or an artisanal wine key. As for Wine Snobs, look for books that explore the science of tasting wine, pairing wine and food, or a wine puzzle. 
Another great present is a gift card from a local wine shop. While this might seem a little too easy, people who love wine also love to shop for wine. Part of the fun is discovering something new and wondering what it'll taste like. 
Choosing a local shop will ensure that they'll find something interesting, and it'll save you the panic of trying to find a wine you know they'll like. 
How Do I Wrap a Wine Bottle?
You've bought your wine, and now you need to wrap it. Of course, you could put it in a wine bag and call it a day, but there are other unique ways to present your bottled gift. 
The Simple Method
Tie a yellow ribbon 'round the old, oaked Chardonnay. Or maybe opt for a red and green ribbon. All you have to do is tie a bow around the neck of the bottle. For a little extra flair, add a wine ornament to your bow!
The Sustainable Method
Buy a cute dish towel, wrap it around the wine bottle, and fasten it with a ribbon. Now, your loved one has two gifts, and you've saved paper. This method is highly recommended for the Wine Hipster or the Wine-With-Food Drinker. 
Even better, get two bottles and put them in a pair of socks, then present them as "stocking stuffers." Get it?
The Resourceful Collage
Do you have scraps of paper lying around after wrapping presents? Tie different pieces of paper, ribbon, lace, and bows around the bottle to create a fun holiday collage. 
Cover up the label so they still experience the element of surprise!
Now, you're ready to shop easily and painlessly for the wine lovers in your life. Don't forget to get yourself something to sip on while wrapping it. Don't overthink that one either: try our Natural Wine Sampler of organic grape wines, that have 0 sugar, vegan and are delicious for all wine-drinkers.