Are Action Bronson and Dua Lipa Responsible for Making Natural Wine Popular?
Anish Patel @ 2022-07-21 08:37:57 -0700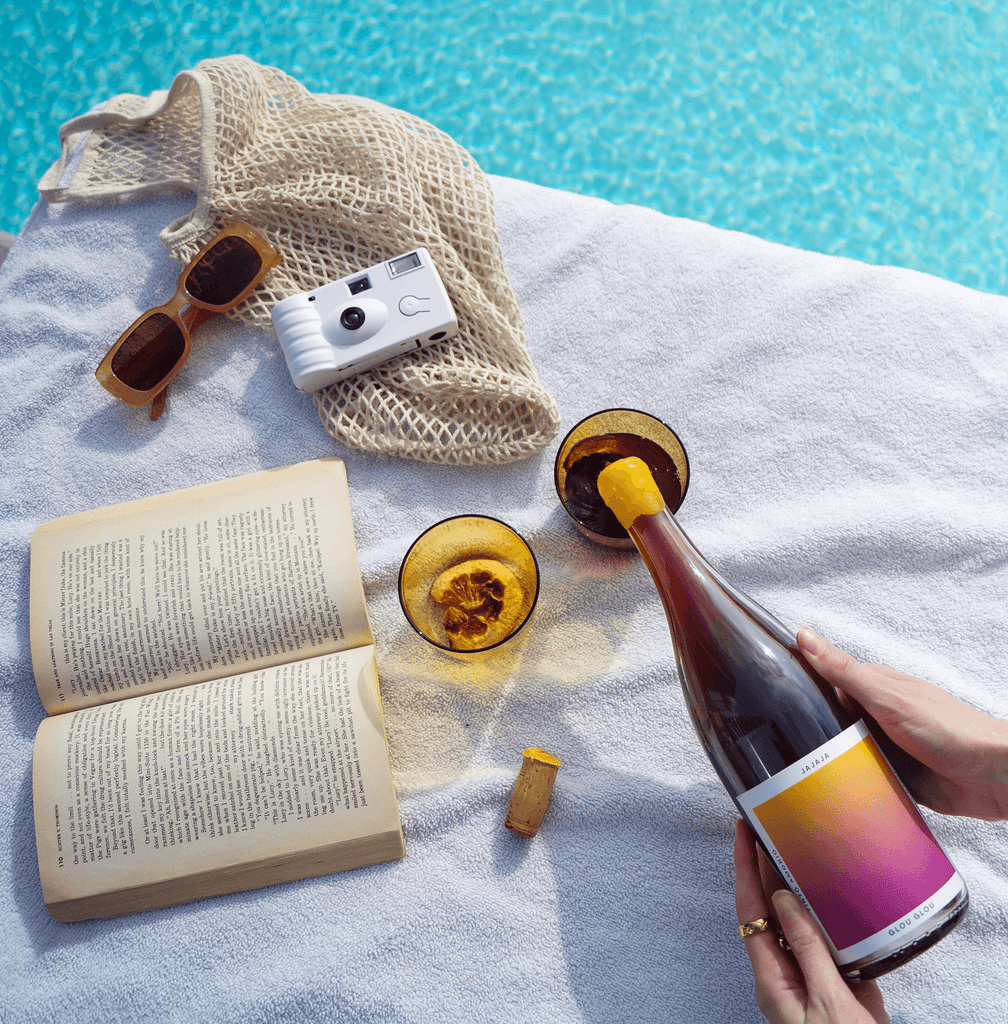 The popularity of natural wine took off in 2015 and there's no end in sight. Since then, wine lovers seem to be falling head over heels with this fresh, fruity, sustainably made wine. Many people attribute the sudden rise in popularity in the late aughts to the influence of rapper Action Bronson and pop star Dua Lipa. And there's no doubt that social media has played an important role in spreading the word about natural wine. With a little celebrity influence and a massive social platform, what was once a fringe movement has started to find itself a rightful place in the mainstream health-conscious beverage industry.
In the 80s and 90s, natural wine and even organic wine just weren't a concern for American consumers. In 2002, the USDA established national standards for organic products, and a health-conscious market took off. It's only natural—no pun intended—that wine would eventually find a place in the conversation.
Let's take a look at the story of natural wine and how both Action Bronson and Dua Lipa played an important role in getting it off the ground.
Action Bronson promoted natural wine in a unique way.
Action Bronson is a chef-turned-rapper and a New York native. He loves to explore cuisine and he has a YouTube channel called "Munchies" as well as a show on Vice called "F*ck That's Delicious." And one day, he was turned onto natural wine.
After a show, Clovis Ochin, a Parisian wine merchant and natural wine advocate, gave Bronson a bottle of Sicilian natural wine called Susucaru. Bronson fell in love with the wine and was intrigued by the concept of natural wine. He invited Ochin to join him on his YouTube show in 2017, dubbing him a "natural wine shaman."
In the video, we hear Bronson tell the story of how that bottle of Susucaru "changed his life" and how he became passionate about educating people about where their wine was made. We watch the two connoisseurs wander through Paris, drinking natural wine, eating salami, and even asking strangers on the street to try their brightly colored pink and red wines. 
Bronson's strength is in how he talks about wine. Bronson is no sommelier, nor does he try to be. He is perfectly confident popping a bottle of wine in a hoodie and sunglasses, dropping f-bombs, and casually explaining what natural wine is. He's not worried about being refined or inauthentic, and for younger generations, this resonates.
Natural wine is, by nature, a bit anti-establishment, and so is Bronson. It's the perfect pairing.
What exactly is natural wine?
Natural wine has been around since the inception of winemaking, around 4,000 B.C. But with the development of technology, winemakers gained the ability to start manipulating their wine. In some ways this is good—now we can control the temperature at which our wine is fermented, allowing us to achieve a desired style of wine, rather than being subject to the whims of the climate.
However, new technology has also allowed conventional winemakers to add things to their wine to cover faults. Why is their wine faulty? Because they take shortcuts in the vineyard that deplete the soil of nutrients and in the end, resulting in poor quality fruit. In order to put out a consistent product from year to year, from a variable crop, they have to manipulate the fruit once it's in the winery to make up for the damage they did in the vineyard.
There are many reasons to operate this way but the main reason some wine producers do it is to maximize their profits. Unfortunately, it is often at the expense of not only the quality of the wine but the health of the environment and the workers who tend the vineyards.
Health-conscious consumers are right to be interested in how to support natural winemakers and help the movement grow, and this is exactly what piqued the interest of both Bronson and Dua Lipa, as we'll see soon.
Natural winemakers, for the most part, run small-production wineries and vineyards. They know that great wine is made in the vineyard, and they choose not to poison the land and water with chemicals. They take extra steps to ensure the health of the vineyard in natural ways, and they add minimal to no sulfites to their wine. These wines are also known as low-intervention wines.
What makes a wine natural?
Natural wine has minimal to no added sulfites, which can stabilize the wine and at the same time strip the wine from the nuances that make it unique. They might also be organic, biodynamic, or grown in a vineyard that practices sustainable farming. The wines are often unfiltered and unfined and don't contain allergens.
The wines are often given unique labels with strong visual elements and bright colors, to help shoppers find them easily in the store.
Making natural wine is more costly and time-intensive than making conventional wine. This is why so many large producers opt to manipulate their wine—it increases their profit. Wine is a risky business; a hailstorm could easily wipe out an entire crop, costing a producer an entire year in profit. It's a tough industry to be in, but natural winemakers are willing to increase their risk in order to make great wine. There's one reason they do this: they love wine more than they do profit.
How Dua Lipa has influenced the natural wine movement.
The rise of social media has allowed celebrities as well as ordinary people to become closer with their audiences, therefore influencing their lives. Followers of Dua Lipa know that she loves wine, and when she discovered natural wine, she started posting about it on social media.
Issue 21 of her lifestyle newsletter, Service 96, tells the story of how Ochin Clovis also introduced her to natural wine (through Action Bronson, of course), and how she quickly became hooked on the fresh, fruity, sustainable wines. She has posted pictures of her at wine bars, often featuring close-ups of natural wine bottles that she loves, and sometimes releases lists of her favorite picks. She also made a video about conventional wine, additives, and the importance of seeking out organic and natural wine.
With 85 million followers and counting, she has helped spread the word about natural wine. Again, younger generations are open to learning new things on social media. And the brightly colored wine bottles are a perfect fit for Instagram, where they add color to the grid.
The reason that both Action Bronson and Dua Lipa have been so successful in promoting natural wine lies in their sincerity. They simply love it and learning about it ignited a passion in them that they couldn't help but share. As you drink more natural wine and learn about the differences between natural and conventional wine, you might also find that you seamlessly become an advocate of natural wine. 
Think about it: you get to infuse environmental activism into your love for wine. What's better than that?
You can spread the word about natural wine, too.
The natural wine movement has ambassadors, influencers, and wine enthusiasts to thank for its popularity. It wouldn't have a place in the mainstream without those of us who love it so much that we can't help but talk about it, post about it, and most importantly: share it.
You can spread the word, too, by bringing natural wine to potlucks, dinners, and vacations. You can also post about natural wine on social media and follow natural winemakers and importers when you find a bottle you love. Social media is a powerful way to spread knowledge and circulate trends, and natural wine is beautiful, so take your Instagrammable moment and encourage your circle to support the sustainability movement by drinking beautiful wine.
Last, prioritize retailers who sell natural wine. The people leading these companies are advocates for sustainability as well and they need your business. You can often find natural wine at your local wine store, but you can also easily find online retailers who prioritize natural wine.
Want to try natural wine? Shop our selection of Natural Glou-Glou Wine, made with low sulfites.