14 Unforgettable Appetizers for Wedding Celebrations
Anish Patel @ 2022-04-18 09:23:55 -0700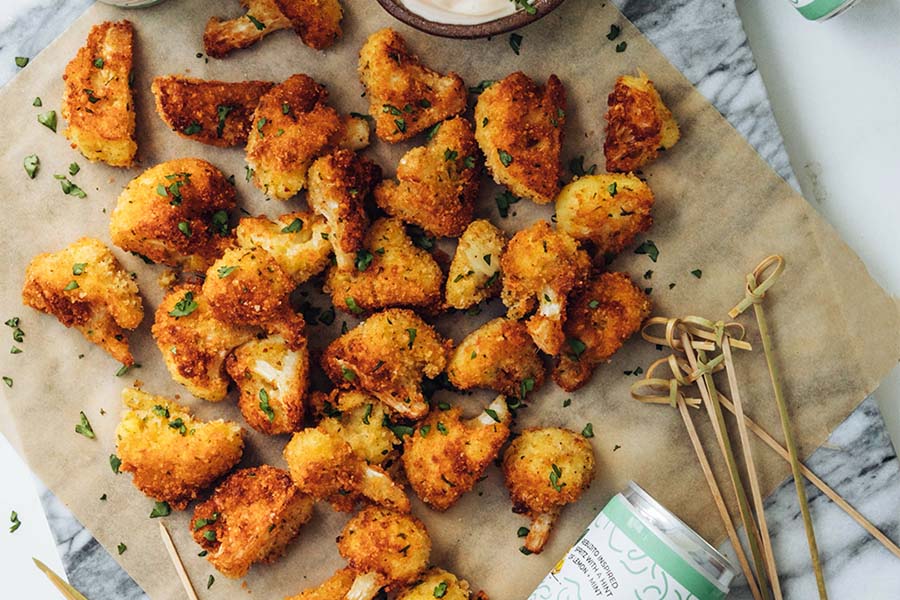 If you're at the stage in planning your wedding where you're choosing appetizers for your reception, we commend you — you're halfway there! 
You've solved the big questions (where will we do it, how much can we spend?), and you're on your way to deciding the fun details that will make your wedding a night to remember for everyone: you, your special someone, your family, and all your guests. 
Appetizers are an exciting moment to look forward to for your guests. Over their plates of apps, they will gush about the ceremony, wipe away tears, and begin to mingle with each other. They're also a really fun way to get creative. 
Appetizers can delight and surprise your guests, serving as the perfect ice breaker to usher in a festive celebration. 
If you want your appetizers to be a hit, there are a few ground rules. Once you have those down, it's time to get creative! We've rounded up 14 unforgettable appetizers that will have your guests talking for years to come. 
What Are Your Wedding Guests Drinking?
You'll want to decide on the appetizer menu in tandem with your beverage menu. You can ensure that everything will pair easily by choosing wines with high acidity. Sparkling wine, rosé, white wine, Pinot Noir, and Chianti will complement food beautifully. 
For beers, go for lighter options like lagers, pilsners, pale ales, and IPAs.
As for cocktails, some of the most common happy hour go-tos are the Old Fashioned, Martini, French 75, Negroni, and Margarita. 
Accommodate for Dietary Restrictions
The next thing to consider is: who'll be there? 
What are the eating habits of your guests? People who have a lot of allergies already know how to navigate wedding menus, and you certainly don't need to create your menu around them. However, it's always great to accommodate them with your menu. It says, "thanks for coming; I really wanted you to be here today."
In general, make sure you have vegetarian, vegan, nut-free, and gluten-free options, but definitely consider options with meat or seafood as well. Luckily, it's not too hard to accomplish a variety like this anymore. 
If you have a lot of gluten-free guests, sub out bread and crackers for gluten-free alternatives. They'll already be naturally covered with some of your appetizers that are more salad-oriented. 
The trend of many restaurants is to create a completely nut-free menu to avoid problems with this common but severe allergy. You can do this too, but if you're a nut for nuts, just make sure you let your guests know that some of your dishes will have nuts in them and reach out with any questions. 
Let's dive in. 
14 Delicious and Unique Appetizers for Your Wedding
Here's our list of the tastiest and most unique wedding appetizers. Hungry yet? You're about to be.
1. Mini Tacos
Who doesn't love mini versions of classic foods? 
Tacos are already relatively small and easy to hold in your hand, but they have one disqualifying factor: they can get messy. 
Make your tacos small enough to devour in one bite, and your guests won't be able to get over the cuteness. Plus, they'll be grateful that half of it doesn't end up on their shirt. 
Fish, chicken, or beef tacos all make great miniature bites. 
2. Tomato Soup Shooters With Mini Grilled Cheese Garnish
This is an excellent option for autumn and winter weddings. 
Still, tomato soup and grilled cheese have such a diehard fan base anyone can pull off this adorable paired appetizer. The tomato soup is served in a shot glass, and a small, triangular grilled cheese is stuck on a toothpick as a garnish. 
For extra wow-factor, add a slice of avocado and wrap the grilled cheese with a piece of bacon. 
3. Hot Chicken Sliders
This appetizer is an excellent choice for southern weddings. It takes Nashville's shining star, hot chicken, and breaks it down into a slider. 
Be sure to get a slice of pickle in there and serve the sliders on white bread for an authentic Nashville experience. Be warned, though — this one is a bit spicy, as the chicken is coated in hot sauce, cayenne, and a special spicy sauce!
4. Feta Watermelon Cubes
Nothing says summer (especially if you've just eaten a hot chicken slider) more than a perfectly square cube of watermelon topped with a dollop of feta and mint leaf. 
Be prepared for these to go fast!
5. Oyster Shooters
Get ready for a champagne toast with an oyster! 
Oysters are summer in a shell, and legend goes they help fend off hangovers—hey, your guests could probably use the help!
Instead of having your guests deal with the juice-filled shells that may or may not drip down to their clothes, dress the oyster up with some tomato juice, chile, lime, and cilantro in a shot glass. 
Easy peasy!
6. Charcuterie Buffet
Charcuterie brings people together—literally. They have to walk over to the massive charcuterie board you've arranged and build their plates. It's a beautiful way to have a low-maintenance cocktail hour where guests can feel free to come and go as they please. 
Be sure to include plenty of cheeses, meats, pickles, olives, fruit, crackers, mustards, and jams. And for your vegan friends, offer a sideboard with pickled and raw veggies, crackers, and a few different kinds of spreads like hummus, baba ganoush, and artichoke spread. 
Vegetarian guests and meat-eaters can grab from both boards, while vegan guests will be grateful not to have to pick around the meat. 
7. Bacon-Wrapped Dates
If you look up Sweet & Savory in the dictionary, you'll find a picture of a bacon-wrapped date in all its glory. 
These scrumptious riffs on pigs in a blanket are five-star appetizers, and your guests will find their eyes wandering to find out where they can get more. 
Be sure to stick a toothpick in each one for easy serving!
8 . Fried Mac 'n Cheese Lollipops
These appetizers are a real icebreaker. 
Take fried mac and cheese balls, stick them on a lollipop stick, and voila! You've got yourself a fun, whimsical take on southern comfort food that will give your guests something to talk and laugh about. 
9. Gua Bao (Pork Belly Bao Buns)
Gua Bao are mouth-watering fluffy buns with tender, sticky pork belly inside. These classic Taiwanese treats melt in your mouth and are easy to hold in your hand. 
Top them with cilantro, red chilies, spring onions, and sesame seeds. 
10. Fig, Goat Cheese, and Caramelized Onion Bruschetta
There are so many different takes on bruschetta; the possibilities are endless. 
This deliciously sweet and savory balance is a vegetarian option that the meat-eaters will be reaching for as well. They also act as mini-flatbreads that pair with wine, beer, and any fruity cocktail. 
11. Crab Cake Sliders 
Crab cake and bread are a match made in heaven. 
Make crab cake sliders that are small enough to fit in your hand as you talk to childhood friends and family members you haven't seen in years. Soft, slightly fried, salty, and a little spicy, be sure to add a little aioli to offset any heat and keep the slider hydrated. 
12. Pimento Cheese Deviled Eggs
What is it about pimento that makes people fall head over heels?
It's certainly the cheese of love, so it deserves a place at your wedding. Pimento Cheese acts as a delightfully surprising filling for deviled eggs and will be a spin-off to remember. 
13. Bacon-Wrapped Jalapeño Poppers
Jalapeño poppers are an oldie and a goodie. Cheese-stuffed jalapeños wrapped in bacon? What's not to love about that?
If you want to keep them mild, remove all of the seeds. If you want a little heat, leave a few seeds in there—but be sure to warn your guests! Also, make napkins easy to access; these can get a little greasy. 
14. Caprese Salad Skewers
Caprese salad skewers are the ultimate "don't fix it if it ain't broke" appetizer that everyone loves.
They fit in at casual, formal, summer, and even winter weddings. Plus, they're easy to assemble and easier to devour, so make plenty!
Add to a mini skewer: a Roma tomato, a rolled-up basil leaf, and a mozzarella ball. Drizzle with balsamic and serve!
Throw the Best Wedding Reception Ever
To make a truly unforgettable cocktail hour, make sure that your guests have everything they need at their disposal to access, eat, and dispose of trash without having to work too hard. That means plates, napkins, and toothpicks. If you're setting up a buffet, make sure it's located away from entrances, exits, and the bathroom to allow for good traffic flow. 
If you really want to make someone's night, have a few tide sticks, some club soda, and napkins on hand for that one friend that just can't help but spill their cocktail. They will remember you saving the night for the rest of their lives!
Can't decide between wine and cocktails for your cocktail hour? Try a sampler of our best-selling Spanish wine cocktails in a can. They're easy to store and drink, and they pair with all the best appetizers.